There are certain red flags you should look out for when looking for remote work. It is one of the core skills in finding remote jobs online. And although one should hope for the best when looking for (remote) work, it is equally important to anticipate and prepare for the worst.
Due to COVID-19, millions have suffered job loss, furloughs, lay-offs, and pay cuts. As a result, many more people are looking for remote jobs or jobs you can do from home. Out of desperation some will ignore the warning signs of a potentially troublesome employer, and get the job anyway.
Weeks or months into the job it becomes clear that they've made the wrong decision and they begin to resent their jobs, managers, or employers. This can easily lead to inefficiency, unproductivity, missed deadlines, queries, even a sack!
To prevent this, it is important to heed certain warning signs about potential employers when looking for remote work. This will save you time and stress. In this post, we will highlight five (5) signs that a potential employer or client may be nothing but trouble.
5 Signs That This Could be a Troublesome Client
Tone of job ad
First impressions are formed within seconds or minutes. Some job ads are so off-putting with content and tone that are shockingly condescending. They make it seem as if they're doing job seekers a huuuuge favor for which they should be grateful and subservient yesmen.
This is a huge red flag, and such employers should be avoided like the plague. If you investigate their company culture you're likely to find that they treat their current staff badly and may have unusually high staff turnover.
Vague job roles/responsibilities
A good job ad is detailed and gives applicants an idea of what to expect on the job.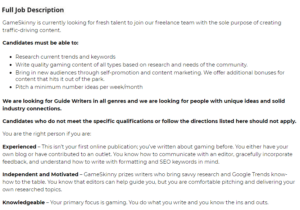 Source: Indeed
This way there are no surprises, and applicants who are unqualified are screened out. Employers or advertisers will also have access to a pool of qualified candidates, simplifying the recruitment process.
When looking for remote work, avoid job ads with vague job descriptions. You could end up doing more unpaid work that can lead to stress, overwork, and burnout. These can lead to job dissatisfaction.
Low paying clients
Another set of clients to be wary of are those who offer below average pay rates with a tall list of requirements. There are a couple of reasons to avoid these types of jobs. You will quickly feel underpaid and overused, leading to resentment and job dissatisfaction.
Secondly, such low paying, high demand jobs will leave you drained out, stressed, overworked and burned out. This can negatively impact your physical and mental health, not to mention your job performance and productivity.
Most job ads mention expected salary for the role, otherwise you could find out during the interview, from current staff or on sites like Glassdoor.
Refusal to sign a contract
Many professional freelancers require a signed contract before they can commence work on a project. This is standard practice. It protects both parties, holds them accountable and makes provisions for dispute resolution in the event of a breach.
Some businesses understand this and have no issues with signing such contracts. This creates trust and protects the interests of both parties. This can make the contractor focused on delivering quality work.
If a client is averse to signing a contract, it could be a good sign that they may deliberately default down the line. You should avoid such clients when looking for remote work.
Berating past employees
If during an interview an employer (repeatedly) castigates or berates the previous employee and the one(s) before that, that could be a red flag. Some may even (unwittingly) inform you that staff barely last a month on the job.
In such cases it is usually wise to let it go. There's a high chance that you'll also not last a month on the job, plus you could be the next "worst employee of the year" when s/he is interviewing your replacement.
This can happen during the interview or even mentioned in the job ad. In either case, it is better to walk away to the next available job.