Gel blasting is the newest craze sweeping Australia, and for a good reason. It is a new spin on paintballing, but without the pain that accompanies that game. This makes gel blasting a brilliant family-friendly activity for most ages. This post will explain what it is, what equipment you need, and why people find it enjoyable.
What Is Gel Blasting?
Gel blasting is a craze sweeping the globe. Due to the fact that the gel balls are fired, they are a safer alternative to airsoft or paintball guns, which are too powerful for kids. Gel blaster sports started in Australia and are now a popular outdoor activity for people of all ages around the globe. What makes it such a fun activity is that you get all of the tactical fun of paintball without the pain that comes with it!
Equipment You Will Need
You may want to invest in some gear before getting the kids pumped up for a trip to your local gel basting event. This will make the experience far more exciting and ensure that you have the best equipment ready. The majority of gel blasting locations will allow you to rent equipment, but if you plan on playing the game in the future, it is a good idea to buy your own. But what exactly do you need to get started?
A Quality Gel Blaster?
The first and most essential piece of equipment you will need is a gel blaster gun. Gel blasters fire polymer water beads (or gel balls) as ammunition, which are far less unpleasant than paintballs or plastic bullets. For best results, you should look for high quality gel blasters that won't break to make your investment worthwhile. While you will pay extra upfront for quality, you will save long-term because you won't need to replace it often.
What To Look For In A Gel Blaster Rifle
When it comes to your primary weapon, you have lots of options, and because this will be your most-used weapon, you need to ensure you choose the right one. But what separates the good from the bad?
Budget
Your first consideration should be budget. As mentioned previously, you should aim for a high-quality model that will last you the course. However, these can be pretty costly, so you should be prepared to budget accordingly. In reality, this means setting aside around $200-$400. This amount will get you something that ranges from adequate to amazing.
Style
This relates to the type of gun you prefer the look of. They come in many different shapes and sizes, so you will have no shortage of options to choose from. This is highly dependent on what you prefer, as you can get anything from an AK-47 to an M-16.
Battery Power
Generally speaking, blaster batteries come in two flavors:
7.4 V
11.1 V
The 7.4 V battery pack is the standard, and you can run it on any weapon. However, if you are looking for more power, you will have to check if your blaster uses a nylon gearbox to cope with the additional power. Moreover, it would be wise to budget for additional battery packs that allow you to play all day.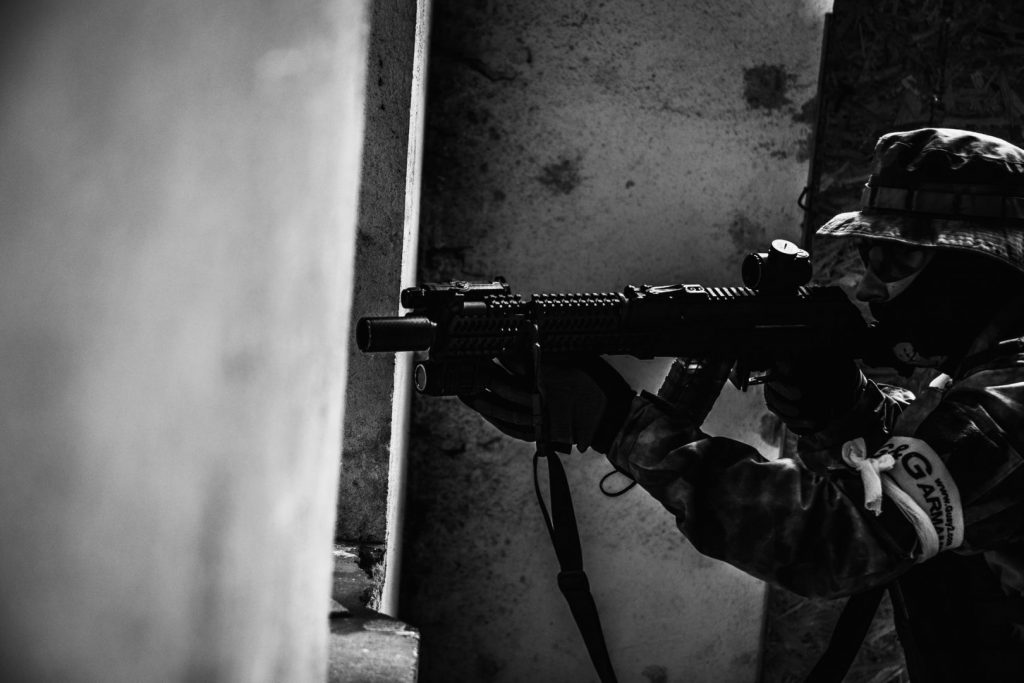 Eye Protection
Although gel blasting is far less dangerous than other shooting games like airsoft, you still need eye protection. Due to the speeds of the gel balls leaving the blaster, you could suffer severe eye injuries. Fortunately, you can get all manner of eye protection, from advanced full-face protection to basic goggles. It is up to you how much protection you want, but anything will do as long as it sufficiently protects your eyes.
Lots And Lots Of Gel Balls!
If you want to play gel blasting, you will need the ammunition. Because the blasters tend to fire at high velocity, you will need to purchase a decent amount before any game. There will be no waste or mess when you play with gel balls because they are non-toxic and biodegradable. This means that you can choose almost any location, and rest assured that you are not harming nature. However, there are different types of gel balls for different blaster power outputs.
How To Choose Gel Balls
It is recommended to utilize just medium-strength gel balls if your blaster fires up to a rate of 260 FPS. Using the significantly harder gel balls is recommended if you're shooting at speeds higher than 280 FPS. This is because the higher rate of fire can disintegrate your gel balls before they leave the barrel making a mess and ruining your day. Fortunately, you can find a selection of gel ball strengths in any shop that sells gel blasting-related items. Furthermore, you should set aside a certain amount of money dedicated to the balls each game to ensure that you and your family don't run out.
What Clothing To Wear
There is no hard and fast rule regarding clothing (although some venues might require you to wear specific clothing). Nonetheless, it is wise to select old clothes so that you don't ruin them. While the gel balls are pretty inert regarding the mess they make, gel blasting is typically performed in woodland areas, meaning you can get very dirty very quickly! Therefore, you should opt for clothing that you don't mind getting spoiled. You can even go full camo if that's your bag; as long as it is hard-wearing and machine-washable, you should be fine.
What Makes It So Much Fun?
Gel blasting has grown in popularity over the past few years due to several reasons:
It is less intense than paintballing, meaning that younger people can participate.
The equipment is relatively inexpensive.
It doesn't hurt as much as other shooting games.
You can experience it almost anywhere.
It's a great way to get outdoors and bond with your family.
While gel blasting is a relatively new experience, it has grown enormously over recent years. There are various reasons for this, not the least of which is that families can play together easily. As long as you buy the right gear and protect your eyes, you will have a great time!