Top 5 Trends of E-Commerce Industry in 2018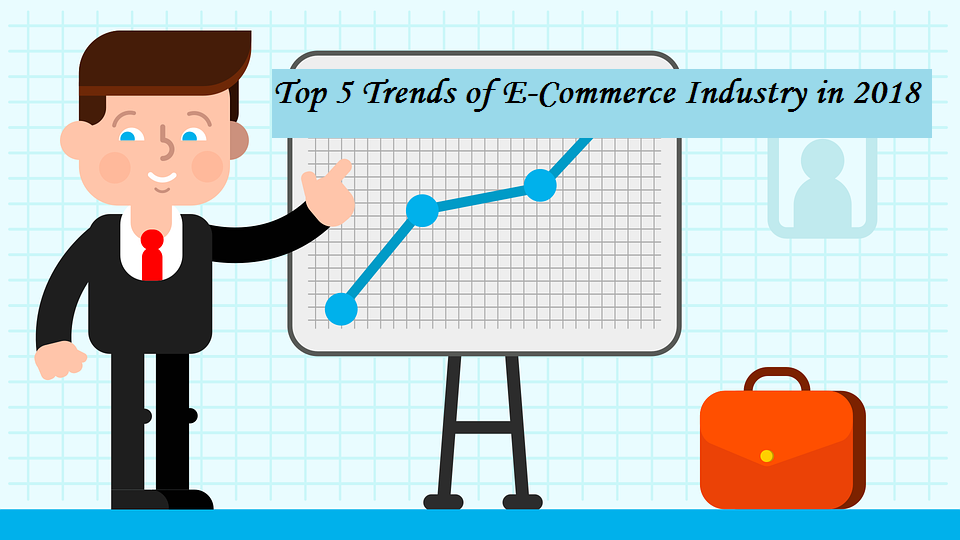 With the increase in competition among B2B marketers, it becomes difficult to sustain in the market.  This problem is primarily seen in the E-commerce industry. So, in order to compete, one needs to adopt the trends of the market. E-commerce industry has evolved largely in recent years and is moving at a great pace to provide buying and selling solution directly to the customers. It has provided a D2H service which is fundamentally different from that of buying products from shops or any outlets. It is expected to have some change in upcoming trends in 2018 which will be a boost in the E-commerce industry.
Trends of E-Commerce Industry
Some of the trends that will be seen include:
Marketing Strategy
As of now in 2017, industries follow the traditional form of marketing. But they need to switch to digital marketing field. Every business has some goals. So after setting goals, one needs to develop the marketing strategies in order to hit the targeted audience. The renovation and implementation of marketing strategies will definitely help in meeting the goals of the company. Adopting different strategies of marketing like Email Marketing, Mobile Marketing, Affiliate Marketing and others are now well researched for the better implications on the customer.
Engaging through Social Media
These days, social media has become the largest platform to connect with the prospective customers or clients. Social media is something that has brought the consumers of different needs under one roof.  So, engaging your audience through various social media like Facebook, Twitter, Instagram, and LinkedIn is the ultimate way to sell your products the buyers.
Artificial Intelligence
Each and every company in E-commerce industry is now specifically focusing on the Artificial Intelligence to improve its efficiency and to provide better results to customers in searching and brining solution in a better way. Machine learning and artificial intelligence come with the endless possibilities to change the traditional form of marketing. The creation of intelligent machines is the boom to all E-commerce industries because they work and react like a human being through Artificial Intelligence.
Same Day Delivery
To meet expectations of customers, industries are now focusing on providing the solution through the same-day delivery process. This trend is going to bring a high rate of consumer conversion in terms of services and profit. To avail this service, a customer needs to pay some extra amount. But still, it is beneficial to those customers who don't have time to wait anymore.
Building Relationship with Consumers
Building a strong relationship with the consumers will definitely improve your business productivity. Nowadays companies are focusing much on advertisement in which they use relationship quotient to increase a sense of belongingness with the other consumers. With the fast-moving technology and adoption of new resources, it is necessary to maintain the relationship with end customers in order to maintain the flow of business.
Because of stiff competition in the market, companies are adopting new technologies and methods to increase their efficiency in promoting their business and its culture. After implementing these trends in 2018, the leads, sales, and conversion of your business will exponentially grow in coming years. In this way, these trends would be beneficial to your business.