The journey of Shop Pay started in the year 2017, and since then, it has become one of the largest used payment methods of all time. As of now, Shop Pay has more than 1.3 million users. It is a highly advanced tool that combines both the best features of a payment service provider and a user-friendly method for checkout.
As life has become a lot faster nowadays, Shop Pay is a great way that helps you cope with the fast-moving pace of the current speed of life. It helps customers to make payments faster, which, in turn, helps sellers increase the opportunity to retain repeat business. It also takes away the risk of cart abandonment. Furthermore, Shop Pay is geared up with numerous amazing features that make it stand out in the market.
In the following article, we will learn a good deal about Shop Pay, so let's get started!
Who is the Owner of Shop Pay?
Shopify is the proud owner of the payment service provider known as Shop Pay. In 2017, Shopify launched it for their merchants so that customers could experience a faster and more efficient way of checking out.
How Shop Pay Works
Shop Pay was created to make the online purchase experience better and faster for customers. That's why it only requires one-time payment information from customers. Once it is done, Shop Pay automatically recognizes a customer profile when they are visiting an online store that uses the tool.
Shop Pay is capable of encrypting and saving previously provided billing information, so that customers don't have to click the 'Buy Now' button more than once. This feature also eliminates all the hassle of taking out a credit card and typing your name.
How to Pay Installments on Shop Pay?
One of Shop Pay's best features is that customers can use it to make payments in instalments. Let's see how it works!
Put items in the cart
Select Shop Pay check out
Tap on Instalments
Review the instalment payment options
Go through the process of purchase once again and check out
Also Read – Marketing Automation Bizleads Summit: The Key to Your Success
The Customer Service of Shop Pay
Shop Pay is the ideal payment service for business owners, and, for customers, the Shop Pay help centre is also available. Customers can find all the required information. However, sho pay does not provide a number for customer service. Buyers using Shop Pay need to fill out a form of contract so that they can contact a local agent in times of need.
Is Shop Pay Secure to Use?
Shop Pay is very secure to use for both buyers and merchants. This tool is powered by Stripe which helps it meet all the necessary industry regulations such as PCI compliance.
What Does Shop Pay Code Mean?
A Shop Pay code is a 6-digit verification code used for the identity verification of a phone number. It helps avoid the misuse of your debit/credit card info.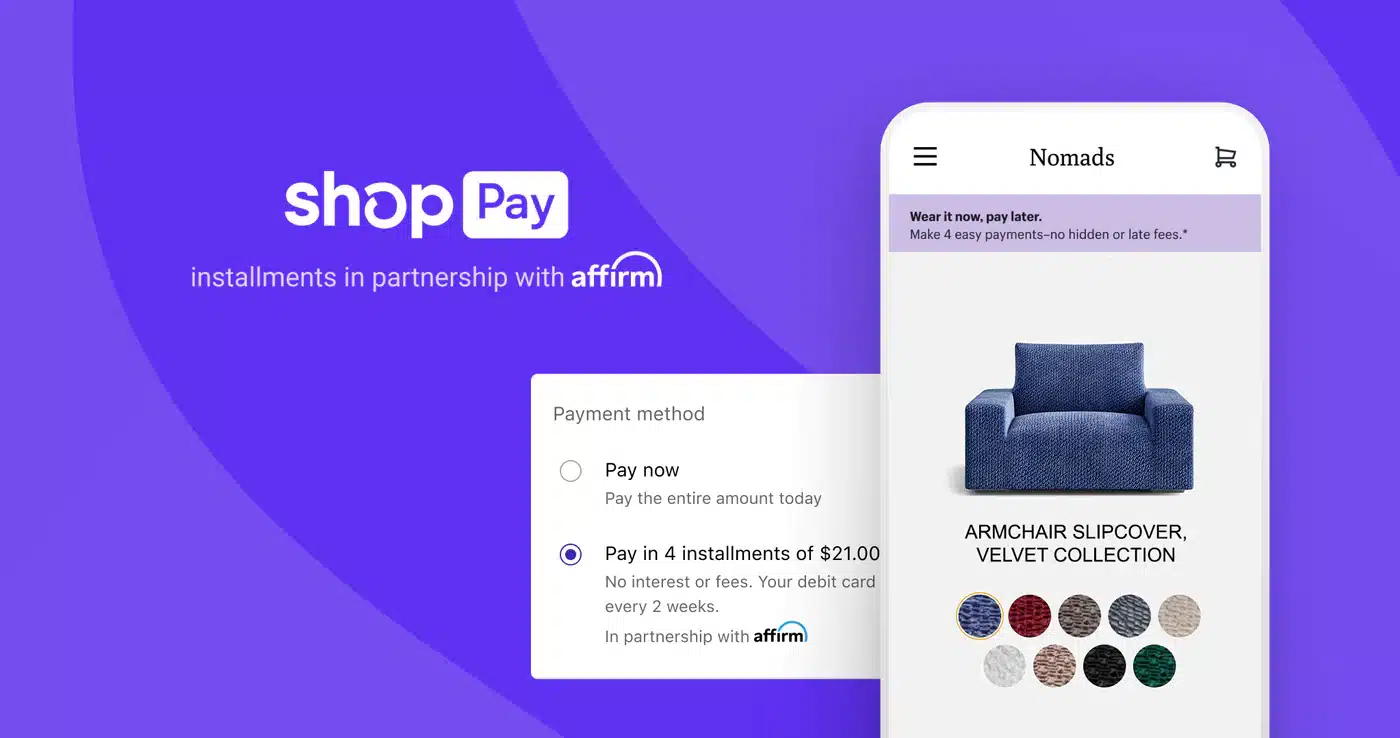 Difference Between Shop Pay & Shopify
Although Shop Pay and Shopify are the products of one creation, they are strikingly different in several ways. Here's how it goes!
Shop Pay
Can be used as a wallet
Provides faster payment service
Has instalment options
Requires only a verification code
High fee for setup and transaction
Has express checkout options with branded purple button
Shopify Payment
Isn't a wallet
Standard payment processor
Low fee for setup and transaction
Doesn't have a branded button
Benefits of Shop Pay
Shop Pay users get a lot of benefits and three of them are listed below:
Fast Check-Out: It helps customers by allowing them to decide quickly
Improved Delivery Tracking: Both merchants and customers have 24*7 access to shipment locations.
Local Store Suggestions: Shop Pay offers pick-up as well as delivery services to local merchants.
Can Shop Pay be Used Without a Shopify Store?
It is not mandatory for merchants to have a Shopify store to use Shop Pay. They can just put a Shop Pay button on platforms such as Google, Instagram, and Facebook.
What Does the Shop App Stand For?
Although Shopify's Shop App began as a package-tracking app called Arrive in 2017, the latter rebranded itself in April 2020 as Shop. It has brand state-of-the-art features that you should definitely check out.
Are Shop Pay and PayPal the Same?
Although Shop Pay and PayPal are required for similar purposes, i.e. payment processing, they are two different applications. However, Shop Pay is a lot faster than PayPal.
What Happens When Shop Pay is Used?
The process of using Shop Pay is comparatively easier than other payment processors available in the contemporary market. It is very simple and the process goes like this — a customer first enters their billing information and Shop Pay remembers all the details for future purchases.
Also Read – Workforce Software Monday: Advantages, Best Features, & More
FAQs
How Does a Shop Pay Payment Work?
Follow the above-mentioned process to learn how Shop Pay payments work.
Should I Use Shop Pay?
Yes, it is highly recommended.
Does Everyone Accept Shop Pay Payments?
Brands such as Steve Madden, Fashion Nova, Gymshark, Figs, Ruggable, and many others accept payment from Shop Pay.