Instagram is an incredible platform if you are looking to enhance your social media presence. Over 1 billion people use Instagram actively every month.
It makes Instagram one of the most popular social media platforms globally. But, with so many brands using the same platform, it can take time to stand out. The best way to increase traffic to your website from Instagram is to use growth hacks on Instagram.
Let's see what Instagram growth hacking is and how you can boost your profile.
What is Instagram Growth Hacking?
Instagram growth hacking refers to using different techniques and strategies to bring more visitors to your store. It may include improving the content on your account, paid marketing, engaging with the users, etc. There are various secrets to Instagram growth hacking that influencers and brands use to build and improve their image. We have compiled some of the most popular and effective hacks for you:
Use Relevant Hashtags
You might have seen Instagram posts flooded with hashtags of different kinds. The reason is that hashtags are vital to Instagram growth hacking, and improving your brand image. Yet, one thing businesses and influencers often need to remember is the use of appropriate hashtags.
While hashtags enable better reach and engagement, users must appreciate relevant hashtags. They see that you are trying too hard.
The best approach is to add 7 to 15 hashtags with the highest number of posts to your content. It ensures that your images and reels reach the maximum number of people.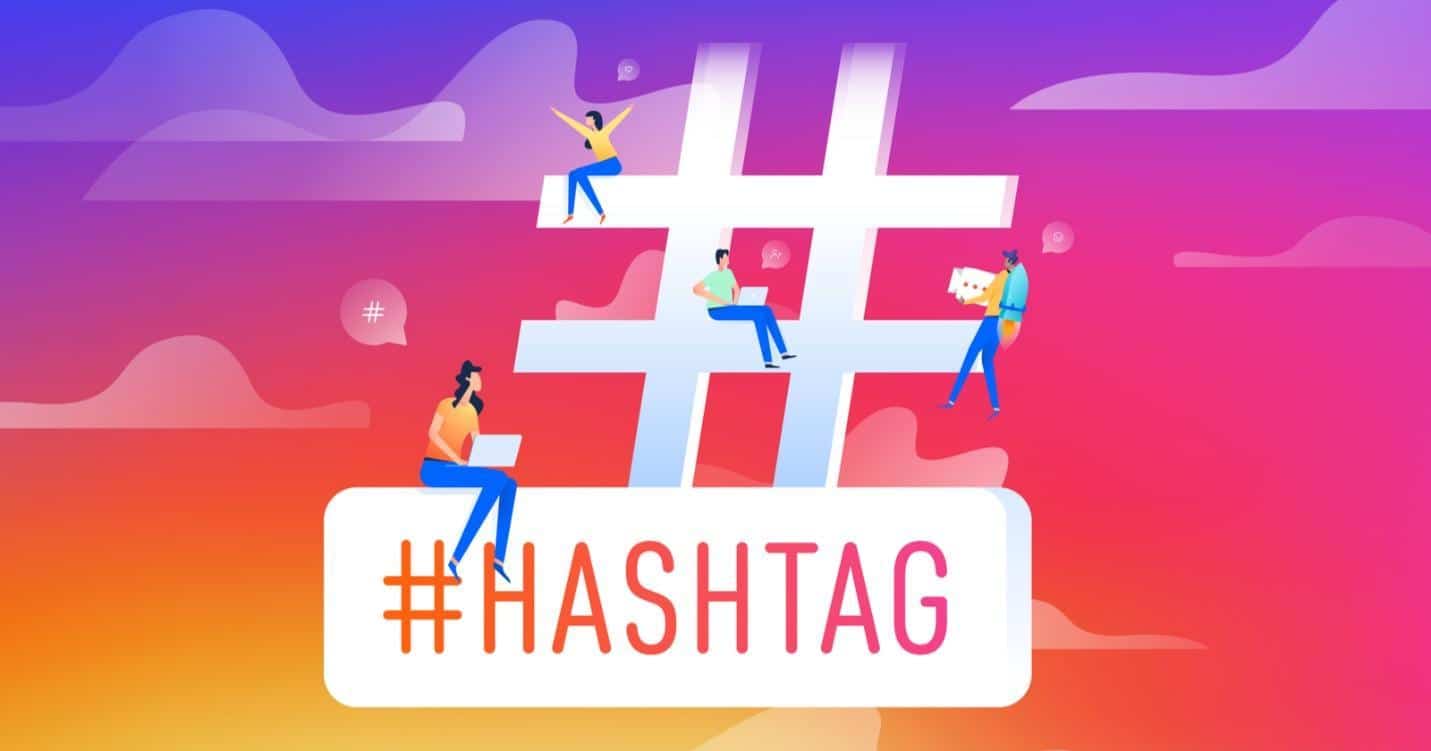 Image source: Search Engine Journal
Tag Others in Your Posts
Tagging is one of Instagram's most effective features that help improve your content engagement. When you tag someone in your post, they receive a notification and visit your post. If the post is to their liking, they might like it, comment on it, or share it.
If you are confused about whom and how many people to tag, we got you covered!
You can tag your top followers, similar businesses, or top names in the industry. Studies show that you should add at least 11 tags to your post to engage around 150 users. These 150 users have the potential to engage many more.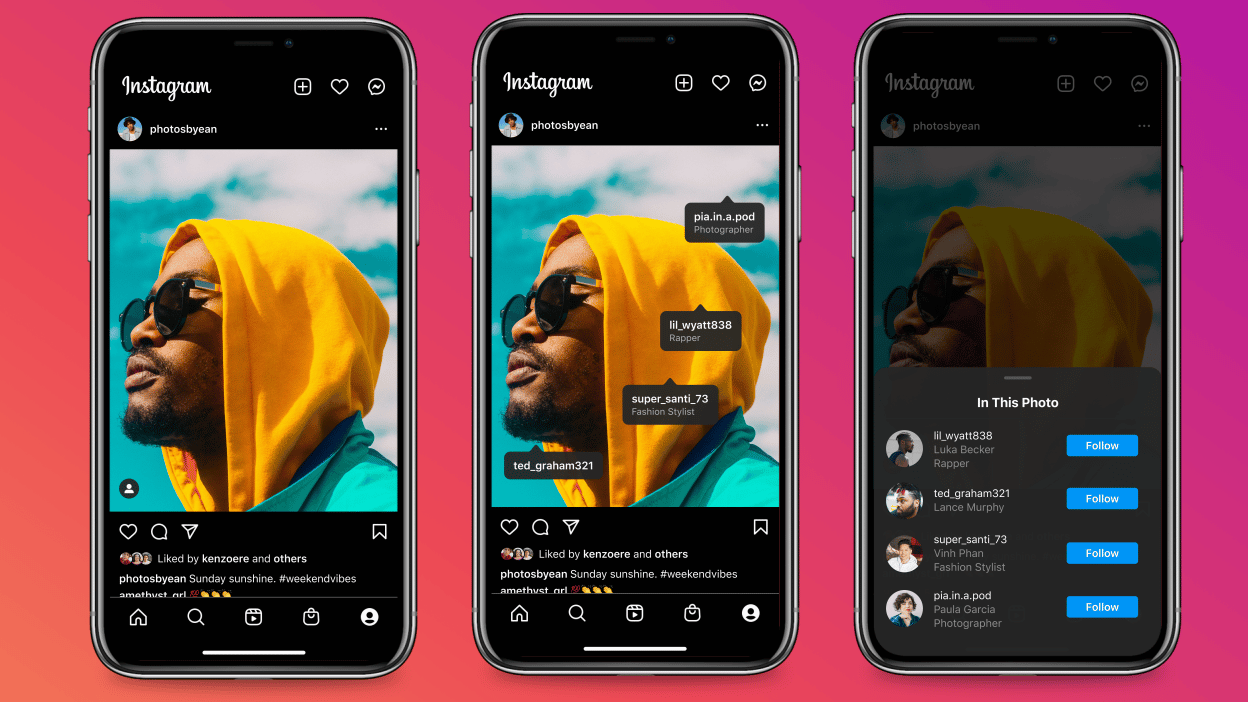 Image source: Mashable
Understand Your Audience
Understanding your audience plays a major role in becoming the name everyone remembers. For example, when you see a coat online and wonder, "This is exactly what I was looking for!"
Here's how the secrets of Instagram growth hacking help boost your profile:
When you do not know your audience, you do not create the content they want to see. It allows you to try A/B testing and see which kind of content gathers more attention. Use follower activity information, demographics, and insights to know who your audience is and what they want.
Image source: Sprout Social
Follow Your Followers
Follow-for-follow techniques are widely adapted Instagram growth hacks to increase followers on Instagram. Many small businesses in other social media groups follow each other on Instagram to boost their profiles. However, there might be better choices than this if you are an acquainted brand.
So, you can follow people with similar interests, and they might follow you back eventually. Alternatively, you can follow your existing followers. This technique allows you to understand what your followers are looking for. And if you can provide a solution to their problem, viola!
Following your followers makes it easier to survey and research the consumer's needs and come up with a suitable solution. Offering a service or product they do not find anywhere else will benefit you in the long run.
Fig. Following your followers
Image source: Sprout Social
Engage with your Followers
While following your followers is important, it is not enough. It takes a little more if you want to be remembered when your followers think of your service.
To crack the Instagram growth hacker code, you must interact with the audience through your content. Interacting with your followers shows that you care about their opinions and suggestions. Some of the best ways to engage your followers include:
Organizing giveaways
Conducting quizzes with prizes
Surveys and polls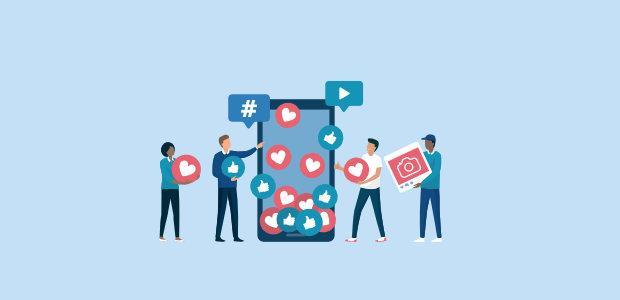 Image source: Smash Baloon
Collaborate with Influencers
The list of Instagram growth hacks can only be complete with the mention of influencer collaborations. Instagram essentially introduced the concept of influencer marketing. Users with a high following became influencers who drove the audience's decisions.
You can also use Instagram influencer marketing to improve your brand's visibility. Marketing experts consider micro-influencers with 50k to 100k followers the best choice. It is often because the users relate to these influencers personally and don't see them only as a brand. Thus, they have better engagement rates. Collaborating with micro-influencers can help you grow on Instagram effortlessly.
Image source: Get Hyped
Share Reels
The introduction of reels on Instagram has massively changed how users interact with the audience. Initially, you could create posts only to share insights into your life or business on Insta. But, sharing reels has come as one of the best secrets of Instagram growth hacking.
Surveys show that reels have become content's most engaging post type since 2020. The Instagram algorithm also favors reels over posts and stories. It means that posting reels boosts the chances of users coming across your content. Now, you can also convert your reels into ads. What's better than that?
Image source: EmbedSocial
Create an IGTV Channel
If you just now know IGTV, it is another feature on Instagram similar to reels. A large viewer base uses IGTV, amounting to over 7 billion downloads globally. IGTV differs from reels in that IGTV allows you to create videos of up to an hour for verified users.
You can use IGTV growth hacks Instagram within the app or download IGTV from the play store. Long-form instructional videos are the most popular content on IGTV, and you can use that for promotion too!
Image source: GSMArena
Post at the Right Time
When we talk about posting content in images, reels, stories, or IGTV, there's more to the type of content. How often do you post something brilliant but gain only a few views? Often?
We know it because it is not only your story. Every business goes through this until they realize it takes you to post at the right time to go viral.
11 am on Wednesday is considered the best time to share content on social media, including Instagram. The activity stays consistent between 9 am to 2 pm on weekends, and a surge is seen after 7 pm on Sundays. However, it is also important to remember that Instagram prioritizes recency. Your viewers will see the content posted recently when they log in. So, images and videos posted during high-activity periods have a better viewership. An increase in reach will eventually bring more people to your business.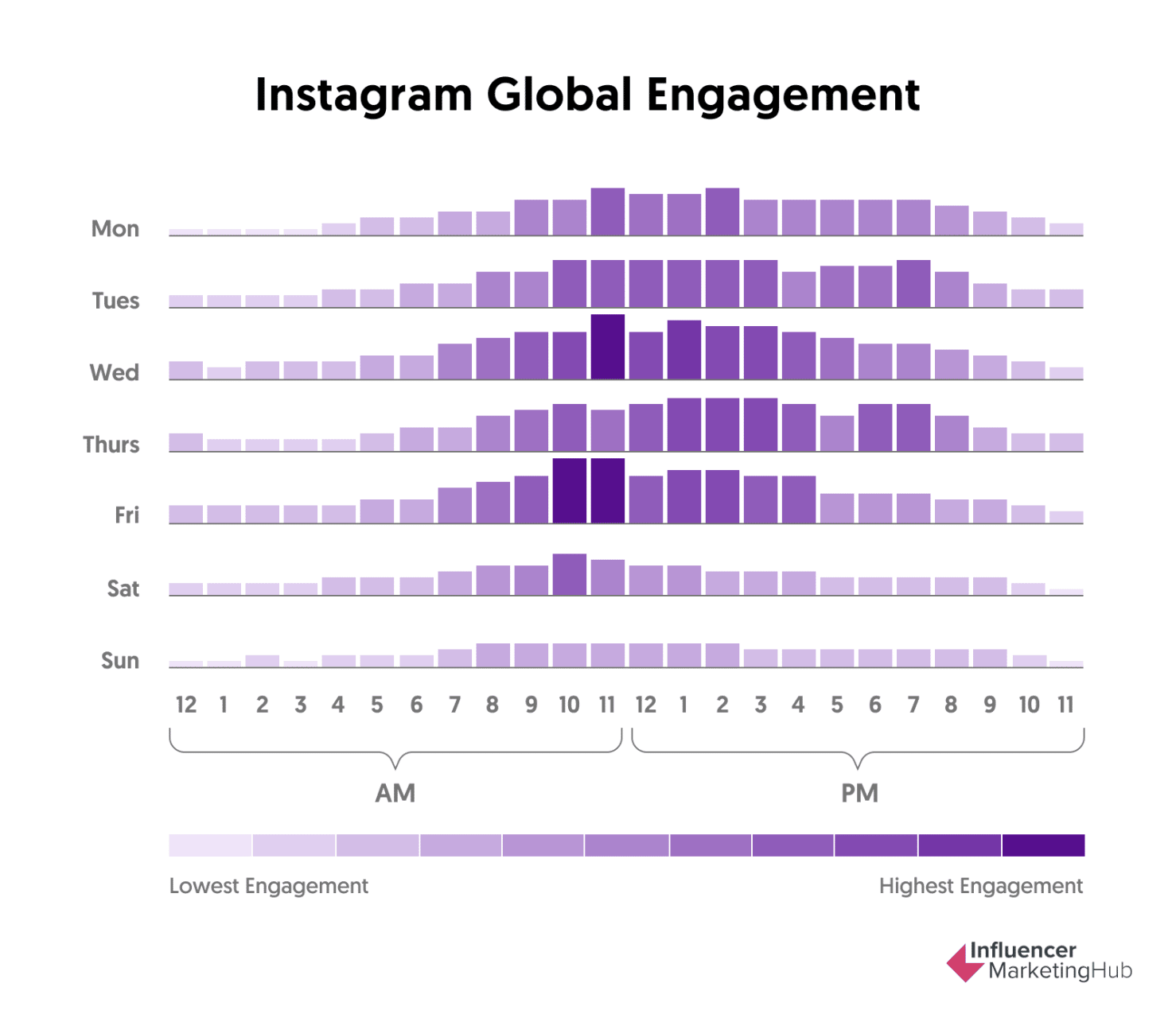 Image source: Buffer
Use Instagram Analytics
If you ask any social media expert about Instagram growth hacking, one thing they all will tell you is the use of Instagram analytics. Instagram analytics are a compact way to analyze all the data you can think of.
It enables you to check the audience's demographics, location, interests, and recent activity. It also helps you understand the content gaining more attention on your account and create more content accordingly. Just imagine how helpful this data can be!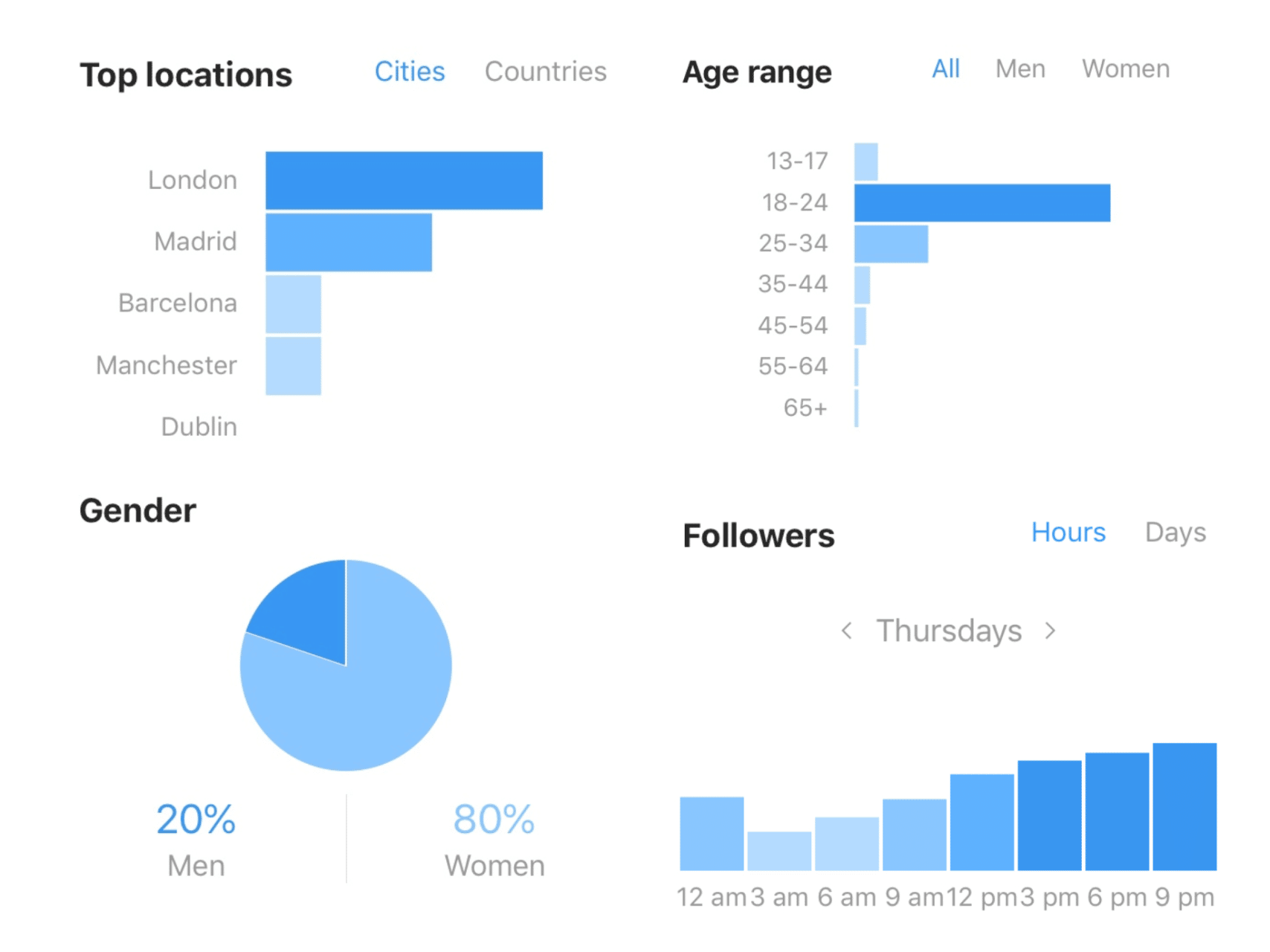 Image source: Search Engine Journal
Conclusion
Different brands and influencers use numerous Instagram growth hacks to improve their reach. Some include understanding your audience, using Instagram analytics, interacting with your audience, creating reels and IGTV content, and posting at the right time. However, it is important to remember that the one that works best for another brand might not work well for you. Pick a few that will suit your needs the best. We suggest starting with Instagram analytics and posting at the right time. Gradually, you can follow your followers, engage with them, and create content accordingly.