Do you remember going through piles of manila folders trying to find a specific document? If the filing system wasn't perfect, it would be impossible to locate what you were looking for.
Even though we saved space by digitizing our filing cabinet and moving to Google Drive, we still have the same organizational problem; if you don't have systems in place, important documents can get lost. Streamline your digital file management by integrating Google Drive.
In the following article, we are going to see how you can automate Google Drive in five easy ways, but before looking into that, let's explore the immense benefits that Google Drive automation comes with.
Google Drive Automation Benefits
Google is quickly becoming the market leader by finding new ways to incorporate AI into its platforms and tools. Automation isn't just for factories – it's becoming a part of nearly every industry, including Business Process Automation (BPA). Automation provides benefits such as the following —
Improved Quality
Quality control is essential, and luckily, there's automation to assist. Automation of conventional tasks guarantees that the outcome will always be identical and top-notch. Also, by lessening the human factor, we decrease mistakes while also making it simpler to regulate processes and tasks.
Increased Productivity
By automating tasks, businesses can save time and make their team more productive. This allows you and your employees to focus on other areas in life, whether work-related or personal.
Visible, Measurable Stats
Automated tasks allow you to effortlessly track progress and metrics, which is key for understanding how your business compares to others. By being able to automate this process, you're giving yourself the free time needed in order to evaluate what's working well and where there may be room for improvement.
Workforce-Need Reduction
In recent years, automation has become more and more popular for assisting people from afar. This is beneficial as it not only increases productivity but also cuts down on the number of required personnel.
Reduced Expenses
By reducing the time spent on busy work and using fewer resources to complete tasks, you will see a decrease in operating expenses. This includes business expenses, payroll, and more.
Now that we are aware of the benefits of automation, let's check out the five different ways how you can automate Google Drive.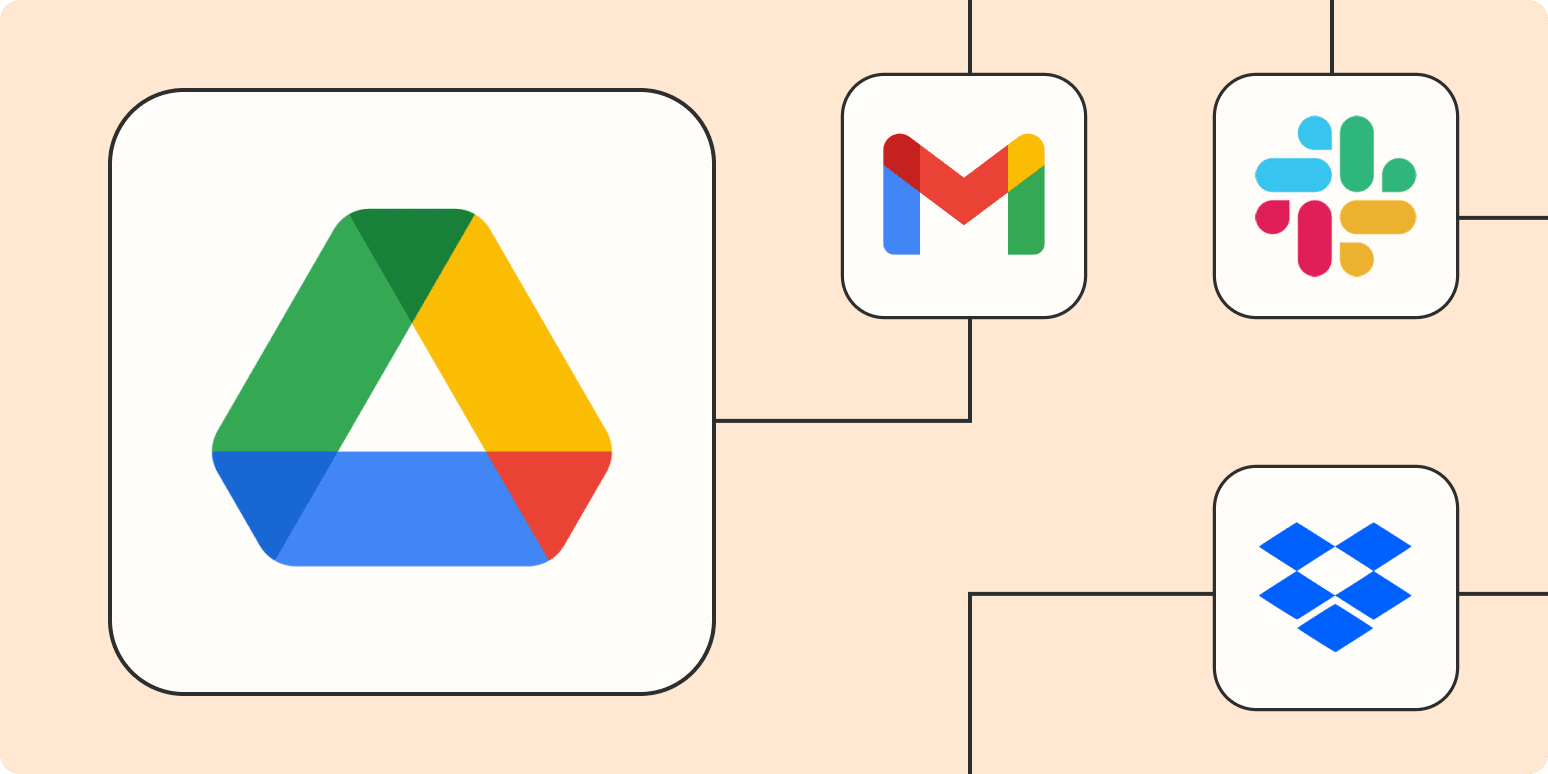 1. Automate Gdrive with Gmail
To avoid aimlessly attempting to establish permissions through Google with no guarantee of success, use this workflow. With it, you will receive an email notification whenever a new Drive file is added, or whoever else should get the notification. You can also notify teams or individuals and easily customize which files generate a notification and how frequently they are sent out.
With this method, you will no longer have to waste time searching for lost files or flipping through tabs. You can save email attachments directly into your Google Drive folder by designating a label or forwarding the attachment to a specific email address. Workflows make it simple and straightforward to set up this automation.
2. Save attachments from other places
Send attachments from Slack or your other favorite chat tools directly to Google Drive so you never have to worry about files getting lost in your inbox again.
If you have a lot of form submissions coming in, you can add files or create folders in Google Drive to keep everything organized.
Utilizing a video conferencing app, such as Zoom, for virtual meetings allows you to automatically upload video recordings to Google Drive by utilizing a Zap.
No matter what device you use, it's easy to save and access files from other drives, so that everyone can find the essential documents.
3. Shorten Google Drive links automatically
If you need to share a Google Drive link but don't want it to be too long, don't worry. Shortening the URL is simple and can even be done automatically.
Zapier can automate the process of taking your newly added Google Drive files and sending them to URL shorteners, so you don't have to do it manually.
Also Read – Does Walmart Have Apple Pay: All Questions Answered
4. Use Google Forms submissions to create new Drive folders
By using Google Forms, you can easily gather information from customers, employees, and those simply curious about your product or service. With the automated workflow feature, you can send each Form submission straight to Drive. You can choose to generate separate folders for every submission or add them to other existing locations. Lastly, you get to decide which submissions are saved and what conditions will trigger this workflow.
5. Send notifications about new files
At times, notifications can appear to be unimportant. Although, with the correct organizational methods, they have the potential to bring productivity.
Automation guarantees that essential people are aware of new Google Drive files. By utilizing email notifications or team chat messages, you can keep your staff up-to-date without expanding your own workload.
Final Thoughts
Zapier is the perfect tool for those of us who need help creating workflows between various business software. With Zapier, it's easy to automate simple or complex tasks so you can focus on your other goals.