Small businesses have suffered significantly during the pandemic, especially at the beginning. Small businesses in the US experienced a loss of 9.1 million jobs in the first two quarters of 2020.
However, the small business sector soon bounced back. In the four quarters that followed, small businesses saw a growth of 5.5 million jobs. These figures offset around 60 percent of the preceding job losses.
Running a small business, despite its size, still requires paying attention to many moving parts. Even companies with less than fifty employees must pay attention to client-facing and internal processes.
Taking the time to streamline your small business's current processes offers several benefits. Let's discuss how streamlining for small businesses works and how you can apply it to your company.
What is streamlining?
Streamlining refers to the process of altering something to make it more effective or efficient. In physics, it can mean changing an object's shape to make it less resistant to the flow of water or air. As a result, the object can move more freely, increasing the speed and ease of its movement.
In a business management context, streamlining can include adjusting specific processes. The desired effect would be increased productivity, efficiency, and cost management.
Streamlining business processes means ensuring all steps remain consistent and replicable. It means perfecting existing systems so they don't rely simply on a particular person's experience or expertise. As a result, processes would remain effective even when the people performing them might change.
9 Tech Solutions for Streamlining Small Business Processes
To small businesses, resources are everything. Unlike larger corporations, small businesses often operate with limited staff and must maximize their existing resources.
For this reason, streamlining operations is essential for small businesses to function effectively. One way to create streamlined processes is through technology and software tools.
Let's discuss the different tech solutions small businesses can explore to improve their processes below.
1. Project management tools
Project management refers to managing various resources to aid the completion of a particular project. A project manager must be able to sync multiple schedules and work with clients and employees to accomplish deliverables on time.
This task can be challenging to handle alone, especially for small businesses. Small business project managers can use software tools to make the job easier.
Several project management software tools are available at various price points. Common features include task management, time management, collaboration, and analytics.
Some of the most widely used project management tools include the following:
2. Business process management software
Before streamlining your business processes, you must properly understand your current operations. This process can take time and resources, especially with limited staff.
Business process management (BPM) software can help your small business analyze your current processes and design workflows to increase efficiency. They allow companies to make the right decisions and adjust to changing circumstances.
Many modern BPM software tools can quickly adapt to various work conditions and have become easier to use. Well-known business process management software includes the following:
3. Communication tools
Reliable and consistent communication is essential for businesses of all sizes. Developing good workplace communication practices is more manageable when people work in the same space.
However, with the rise of remote and hybrid working arrangements, small businesses need to find ways to maintain this level of communication.
Communication tools can help small businesses accomplish this task. Many online communication platforms are available for free or at a minimal cost. These platforms allow remote or hybrid teams to communicate better, even without a shared physical work environment.
There are several categories of online communication small businesses can use. Email, instant messaging, and video conferencing platforms can facilitate conversations and official communication without needing a shared workspace.
4. Accounting software
Finances are an essential part of running a small business. Larger businesses often have a dedicated accounting department. However, hiring accountants full-time can be a significant expense, especially for small businesses.
A viable alternative for small businesses would be to use accounting software. While they can't completely replace an accountant's advice, they can help with most accounting and bookkeeping work.
Many accounting software tools can help businesses keep track of their finances. They help small companies manage different accounts, calculate expenses, prepare taxes, create financial plans, etc.
Some of the most well-known accounting software for small businesses include QuickBooks, Freshbooks, Zoho Books, and Xero.
5. HR and payroll software
If your small business has grown enough to hire many employees across different departments, human resources management can be tricky. Calculating payroll can also be challenging, especially if your business pays hourly rates.
Small businesses can use different types of HR and payroll software tools to address these needs. Many such tools are available, each with various features that help accomplish specific HR and payroll deliverables.
Time trackers, payroll calculators, and knowledge database platforms can fall under this software category. These tools help in various HR tasks, like tax computing, onboarding, salary disbursement, and other necessary processes.
6. Customer relationship management tools
Valuing the customer experience is essential for small businesses. After all, customers and clients bring in profits. Ensuring they get what they need through quality products and services is one of the most influential factors in ensuring business longevity and success.
You can use customer relationship management (CRM) tools to understand customer needs better and react accordingly. CRM software allows you to analyze and interpret interactions through all customer lifecycle stages.
Through this analysis, your sales team can make the necessary adjustments to your operations to improve external relationships. Aside from customer interactions, CRM systems can also monitor your business relationships with other external parties like suppliers and logistics partners.
Zendesk, Salesforce, and Salesmate are some of the most widely-used CRM systems today, though many more are available across different price points.
7. Email marketing tools
Despite being one of the oldest online marketing strategies, email marketing remains effective for reeling in more customers and retaining existing ones. Billions of emails are sent and received every day all over the world.
Online users still use email for various communication purposes, and many check their inboxes daily. This practice makes email a viable marketing space for small businesses, not to mention its minimal cost.
However, sending multiple emails to potential and existing customers can be difficult if done manually. For this reason, you can use email marketing tools to automate the process. These tools can also help you gain relevant insights into the performance of your campaigns and allow you to improve your strategies.
Hubspot Email Marketing, Mailchimp, and Sender are popular examples of email marketing tools to help your business get the results you want.
8. Social media management tools
Social media is currently one of the most popular ways to promote your business. In 2022, it was the most preferred marketing channel by marketers worldwide. After all, signing up for social media platforms is free, and they allow businesses to connect directly with their audiences.
However, crafting marketing strategies for multiple platforms can take much work, especially as algorithms change. Social media management tools allow your business to automate the process and glean important insights into the performance of your campaigns.
Tools like Sprout Social, Socialpilot, and Zoho can help your business schedule posts, advertise, and monitor audience engagement.
9. File-sharing and collaboration platforms
Businesses and various institutions used to rely on paper documents to facilitate multiple transactions. While paper documents are still commonplace in different organizations, many companies have transitioned to using digital files for different purposes.
Digital files and documents help small businesses save on physical storage and filing systems. These types of files are also convenient to send and receive.
File-sharing and collaboration platforms are especially essential for small businesses with a remote or hybrid workplace setup. Many companies, like those offering transcription services, also rely on digital files to serve their clients.
Platforms like Google Drive, Dropbox, and Onedrive all have free offerings. However, for businesses that need more storage space, these platforms also offer affordable subscription plans. They help you store and share important files within the company or for the perusal of clients and partners.
Benefits of Streamlining and Automation
Streamlining and automating specific processes offers several benefits to your small business. While the actual planning stage might often take time and careful analysis, the results are usually worth it.
Here are some significant advantages of streamlining your business operations through various tools.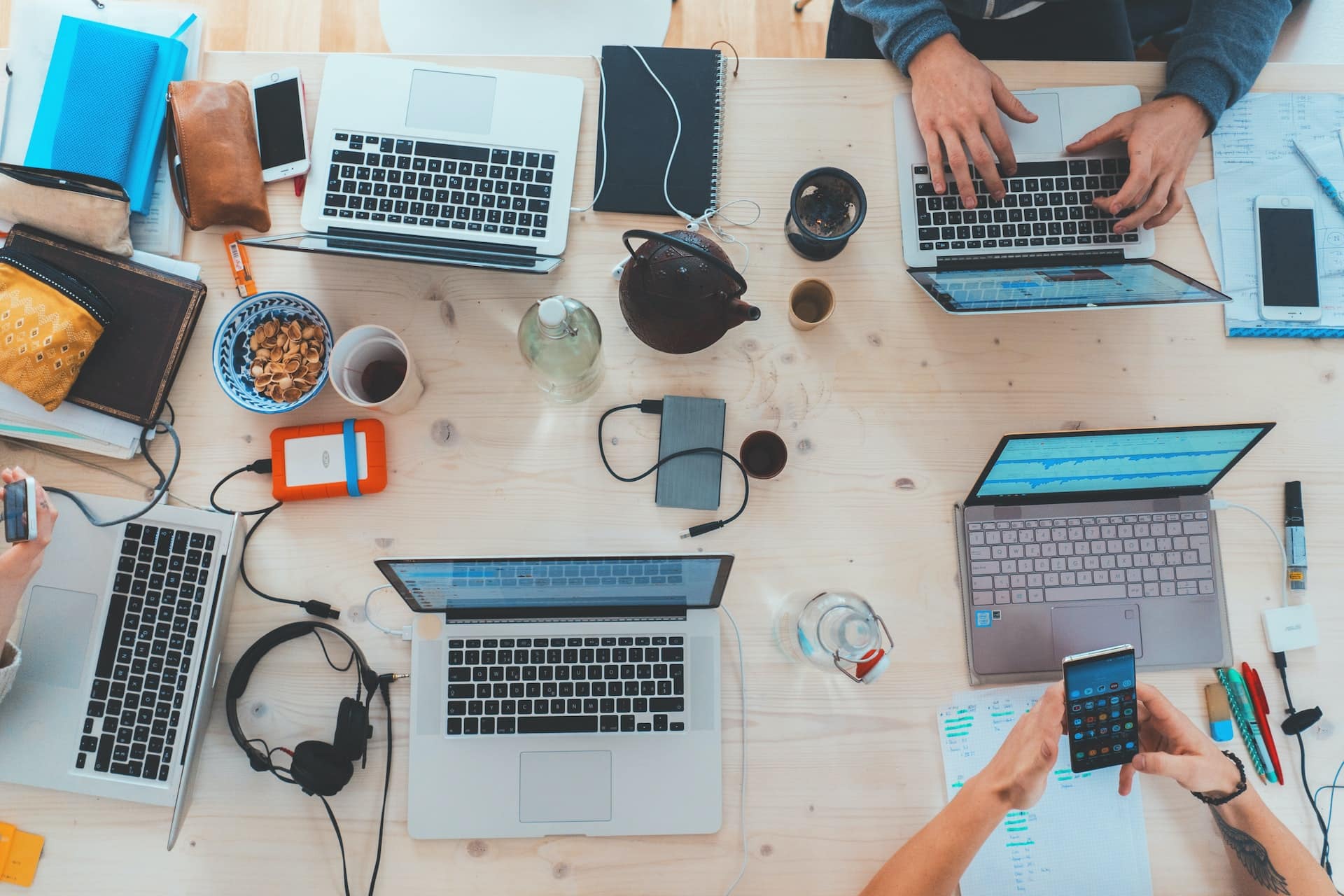 Identifies problems
Consciously attempting to streamline processes allows businesses to identify bottlenecks and issues in their current operations correctly.
The first step to making any significant changes to your small business operations is an analysis of the status quo. This stage of the streamlining process brings various problems to light and allows you to address them accordingly.
Saves time and resources
Streamlining processes involves simplifying current operations, which may be too complicated or resource-intensive. The procedure removes bottlenecks and improves efficiency, saving time and material costs.
Saving resources is particularly important for small businesses that may not have a lot of them.
Improves communication
This benefit becomes more amplified in small businesses, as fewer people are usually involved. Streamlining operations helps employees become more aware of the processes necessary to the company.
The process can help improve internal communication. Better systems enable employees to understand how each of their functions performs within the entire organization. They get to know which departments are responsible for each task and can contact them directly.
Enables clear documentation
Using tech tools to streamline processes creates records of each action taken. This feature is common across most, if not all, modern software tools necessary for businesses.
Clear documentation ensures transparency and traceability. These characteristics encourage employees and managers to become more conscientious about their actions and make it easier for businesses to troubleshoot issues.
Boosts morale
Simpler, more efficient processes allow employees to maximize productivity. With minimal bottlenecks to the systems, people can get more things done and feel more accomplished in their work.
Better systems also lessen employee frustration and miscommunication. People are more aware of their roles and responsibilities and know how to address issues when they arise.
How To Streamline Business Processes
Businesses across various industries will likely have different processes and require unique strategies to optimize them. However, some general practices will benefit small businesses across the board.
Here is a quick overview of the streamlining process you can use and customize for your small business.
1. Map the current process
Before you can make any beneficial changes to your business operations, it's vital to understand your current processes first. Lay out your current process step-by-step to make it easier to see areas for improvement.
You can be as specific as necessary. For example, you can particularize processes for particular departments, dates, or seasons where you get especially overwhelmed.
2. Analyze
Once you have a good picture of the current state of your processes, analyze them. Which approaches have gained the most success so far? In which areas do you usually fall short?
Make sure to analyze each process you plan to streamline. These processes may be for different departments or particular business events.
3. Identify bottlenecks
For a more thorough analysis, try to identify bottlenecks in your processes. What issues do you usually face for specific departments or functions? Are there any redundant steps in each process?
Bottlenecks and redundancies, while seemingly simple, could add up and cause significant problems or delays. Therefore, finding and addressing them is necessary to streamline your business processes.
4. Automate when necessary
You can see which departments or processes need the most assistance after identifying problem areas. As a response, you can hire more people, reorganize your staff, or consider tech solutions.
Small businesses can go either way. However, it's usually more cost-effective to use software to aid or automate particular functions, especially the more repetitive ones.
5. Test new workflows
After deciding what changes to implement, test your new workflows and processes to see if they work. Set a trial period of a few weeks or months to allow your employees some adjustment time.
6. Adapt and adjust
Assess the new workflow after your testing period. How well did your new solutions perform compared to your previous process?
If the results are satisfactory, you can then permanently implement the new process. If not, repeat the process and make the necessary adjustments.
Use Tech To Increase Efficiency and Productivity
Small businesses might not have the most resources, but efficient systems can help them go a long way. Streamlining processes through technology and resource management is a smart way for your small business to thrive and grow within your field.