The ERR_ADDRESS_UNREACHABLE error appears if the browser fails to establish a connection with a website's server. It is a common error on Chrome and there are some pretty simple workarounds. This post will discuss the causes of the error and how you can fix it.
A bunch of different factors may be responsible for the ERR_ADDRESS_UNREACHABLE error. It may be your internet connection, the outdated data in your browser cache, DNS cache data, or a pending update on your browser. In the following sections, we will dive deep into these reasons and tell you how you can fix each of them to continue a smooth browsing experience.
Check your internet connection
most of the browser-level errors you will ever come across can be attributed to a sudden drop in the internet connection. So, that's the first thing you check. Simply try a different website, something you use regularly. Play a YouTube video, for instance.
If a faulty internet connection seems to be the problem, turn your router off for a while, 7-8 minutes, and then turn it back on. Sometimes we just use the router continuously for weeks without ever switching it off. Letting it rest for a few minutes solves the issue.
Restart Chrome and the PC
The data present in the browser often interfere with the process of connecting to a server. This can cause an HTTP error. You can simply restart your PC to circumnavigate this. If that doesn't work, go to the control panel and end every chrome-related process. The issue should be resolved when you restart chrome.
Also Read – DYI Guide to Fix the ERR_NAME_NOT_RESOLVED Error
Update your browser
An outdated browser can cause a lot of problems in your life. HTTP errors are just the beginning. Using an outdated browser can even make you vulnerable to security threats.
Click on the vertical dots in the top right corner of your browser window => Settings => About Chrome.
This will show you any available updates and you need to click on Update now to install any available updates. It's recommended that you keep the auto-updates turned on.
Clear browser cache
Your browser stores some website data – files and images – in the cache. The purpose of this is to load the web pages faster when you revisit them. The data piles up in the cache and often becomes outdated.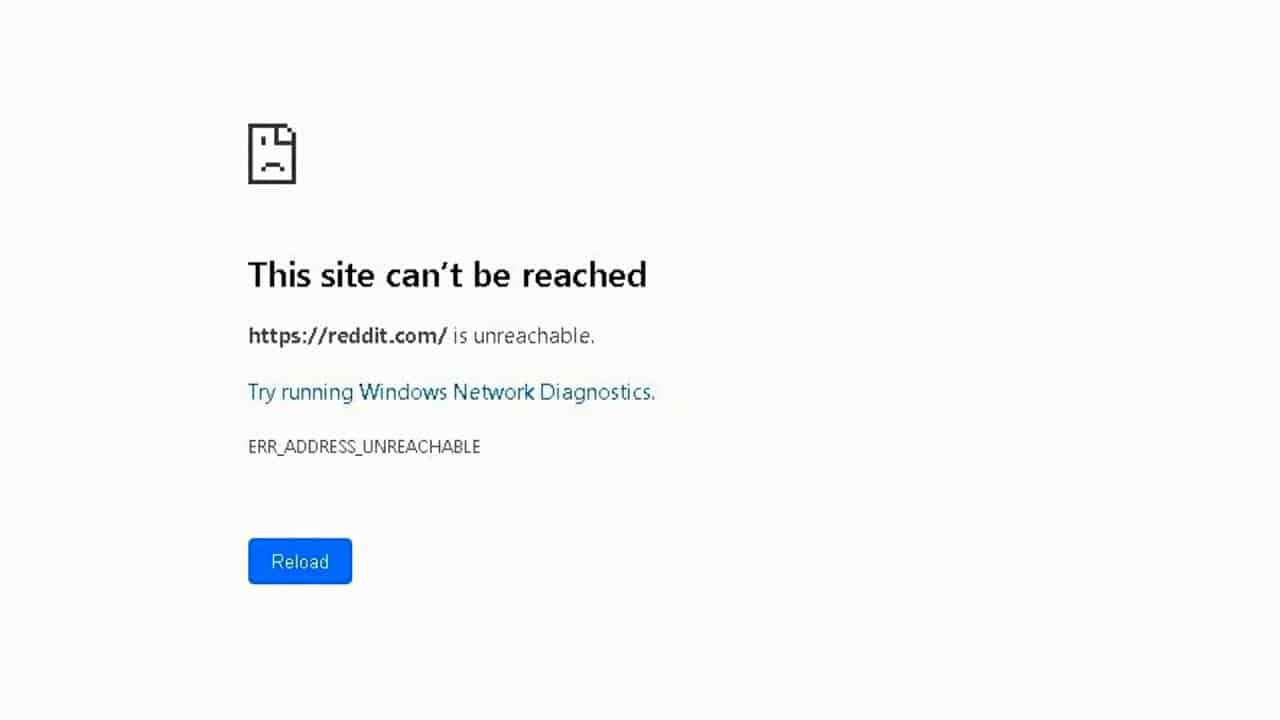 Outdated or corrupt cache data can interfere with the browsing process and make your browser throw an HTTP error like ERR_ADDRESS_UNREACHABLE. This is how you get around it.
Go to the three vertical dots => More tools from the drop-down menu => Clear Browsing Data
Choose a time range for which you want to clear the data. Then check the boxes adjacent to browsing history, cached images and files, and cookies and other site data.
Finally, click on Clear data.
Clear the DNS cache
The DNS cache helps your browser make the connection with the IP addresses behind the domain names faster. Just like the browsing data cache, the DNS cache can also hold outdated and corrupt data. Here's what you do.
Type chrome://net-internals/#dns into your URL bar. You will see a window pop-up. Click on Clear Host Cache.
To be more thorough with the process, you can also clear the DNS cache on your OS. First, you need to run Command Prompt as an administrator and enter the command ipconfig /flushdns
This will flush your system's DNS cache and hopefully fix the HTTP error. 
Also Read – DYI Guide to Fix the Status_Access_Violation Error
Disable Extensions
Extensions are important additions that enhance your browsing experience. But they are software subject to being corrupt or outdated. Here's how to figure out if an extension is causing the problem.
Three dots => More tools => Extensions
You will see all the extensions active or installed on Google Chrome. Disable them one by one and refresh the web page each time you do that. If the website loads perfectly after disabling a particular extension, you can conclude that the extension was responsible for the error and keep it disabled while browsing the site.
Conclusion
These steps aside, you can also try disabling your Windows Defender Firewall to solve the ERR_ADDRESS_UNREACHABLE error. However, it opens your system up to security threats and I do not recommend that you do that.