It's estimated that the mattress market will reach a value of $18.9 billion by next year which is an increase of $1.6 billion from 2018. Many e-commerce stores are trying to keep up with this trend, including Amazon, one of the world's biggest e-commerce stores in the world.
Out of all the mattresses that are sold on Amazon, a recent survey conducted by sleep experts SFGATE revealed that Zoma Start is the best mattress to buy on the site. The affordable memory foam mattress is a favorite amongst budget shoppers who are looking to bag a cooling mattress that won't break the bank. It's a suitable option for hot sleepers, as well as combo sleepers who sleep on their back, front and side throughout the night.
Zoma's new mattress is available in the sizes twin, twin XL, full (double), queen, king, and California king. This thin and light-weight mattress is a good option for bunk beds and campers, whilst the smaller sizes are perfect for children and individuals who don't share with a partner. Couples would be better off with the larger queen and king options, however, so that there is enough room for both people to spread out comfortably.
Each mattress is 10 inches thick and is rated as a medium to medium-firm mattress, with a firmness rating of six to seven out of ten. Medium mattresses are usually a good option for individuals who sleep on their side, as well as combination sleepers. A firm mattress can cause a build-up of pressure around the heaviest areas of the body such as the shoulders and hips. However, a soft mattress can cause too much sinkage which doesn't give enough spinal support and can cause it to become misaligned.
Combination sleepers are also prone to changing positions throughout the night, which is why the mattress needs to have enough support for when they sleep on their back, as well as contouring to the shoulders and hips when they sleep on their side. Medium mattresses are also an ideal option for couples, especially if they prefer sleeping in different positions to each other.
The Zoma Start is one of the most affordable memory foam mattresses on the market at the moment, with a price range of $375 to $599, depending on the size. This price includes a ten-year warranty, although this mattress model doesn't come with a sleep trial. A luxury memory foam mattress can often cost double this, which is why buying a mattress online is a good option for shoppers who want to save money.
One of the reasons that the Zoma Start is so affordable is because it is shipped from a warehouse to the consumer's front door without the need for a middle man. Companies don't have to pay extra fees for the running of a showroom, such as staff and electricity, if they sell their mattresses online. This can lower the cost of the mattress stock and produces more affordable pricing options. The bed-in-a-box mattress industry has seen a surge in recent years thanks to the increased use of online shopping and the convenience of a mattress that can be delivered straight to the consumer's door.
Amazon is renowned for providing good service and delivery, especially for shoppers who have Amazon Prime. Shoppers are able to use Amazon's handy app to track when their mattress is being dispatched and when it will be delivered so that they can arrange to be at home to accept the parcel.
What layers does the Zoma Start mattress have?
As with all mattresses by Zoma, the Zoma Start is made from foam that has been certified by CertiPUR-US as safe and non-toxic. Each of the three foam layers in this mattress has been made without the use of harmful chemicals such as mercury and formaldehyde. The all-foam mattress also has low volatile organic compounds (VOCs), which reduce off-gassing emissions and provides better air quality in the mattress and bedroom. Off-gassing is when mattresses release strong odours after they have been unpacked, which is particularly noticeable with bed-in-a-box mattresses as they have been sealed in during transport.
The three foam layers in the mattress are encased in a woven cover of breathable AirCloth, which is designed to give a soft finish to the mattress whilst still allowing good airflow. At the top of the mattress is a layer of cool gel memory foam, which is specifically designed to disperse heat build-up and provide a cool surface for individuals to sleep on. This top layer also helps to limit motion transfer, which is an ideal feature for couples as they won't disturb one another.
Beneath this is a one-inch layer of Reactiv foam, which lives up to its name by providing a responsive transition foam layer that reduces the sinkage risk to sleepers. The buoyant layer helps sleepers to easily turn over and change position during the night, as well as get in and out of bed. This in turn helps to give pressure relief and ease the strain on the neck and shoulders that many side-sleepers experience.
The supportive base layer of the Zoma Start mattress is an impressive eight inches of Support+ foam. Zoma has designed this layer to weather years of nightly use, as well as constant movement from restless sleepers. This layer also helps to prevent the sleeper from sinking too deep into the mattress, which can cause spinal misalignment and other aches due to the lack of structure. The support makes it easier for sleepers to get in and out of bed, without the edges of the mattress sagging too much.
The durability of the base layer of Support+ foam also increases the good value of the Zoma Start, as it can withstand years of use. However, without the addition of a sleep trial, shoppers aren't given the option to try out this mattress before they fully commit to it.
Hybrid mattresses often try to replicate the type of structure and comfort that the Zoma Start has managed, despite it only being made solely from memory foam. A hybrid mattress may use the support of individually wrapped coils usually found in an innerspring mattress to counter-balance the softness of memory foam. However, the Zoma Start has enough of a supportive base layer that it gives a medium-firm finish without the need for coils.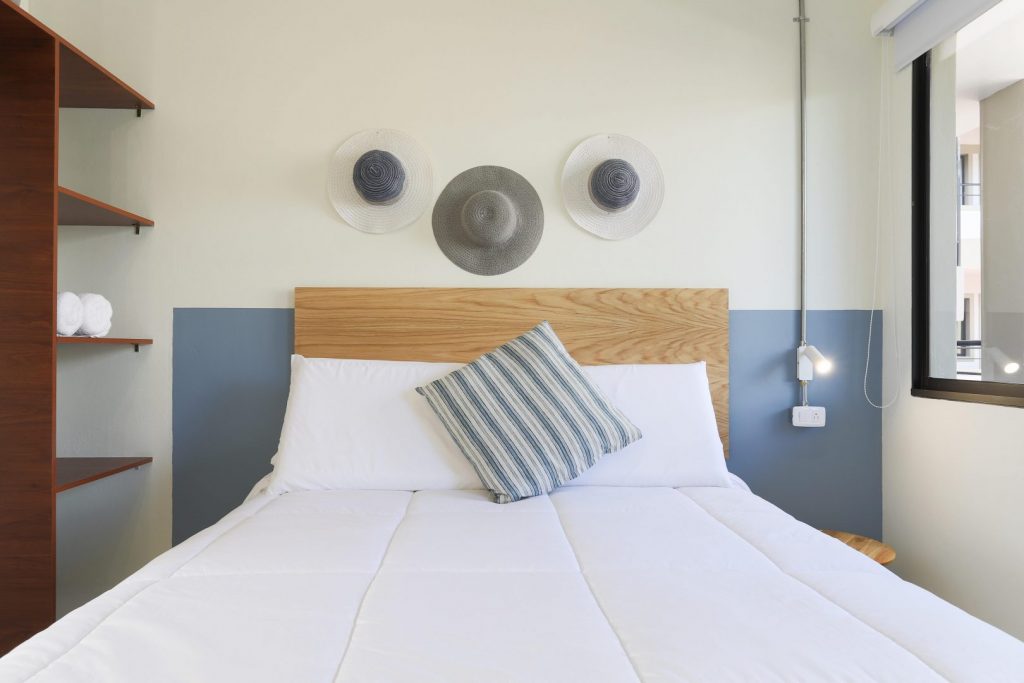 Whilst pressure-relieving memory foam can make a comfortable mattress, the Zoma Start is also able to offer heat-wicking elements within the foam to help ease pressure points and aid muscle recovery. This makes the Zoma Start a good mattress for athletes or older sleepers who experience aches and pains that they struggle to shift.
Individuals who suffer from night sweats will also benefit from the cooling gel memory foam as it lowers their body temperature and maintains a reasonable temperature throughout the night. Traditionally, memory foam was notorious for retaining too much heat, largely due to the dense structure and poor airflow. However, modern memory foam has adapted so that it is possible to circulate air properly and therefore expel hot air before it can build up.
The gel within memory foam has the ability to draw heat away from the sleeper to keep them cool. This means that the gel slowly takes on the temperature from the surrounding foam and consequently cools it down, although it does not happen slowly enough for the mattress to stay cool through to the morning.
Why is Zoma a good mattress brand?
Zoma is well-known as a good-quality mattress brand that offers affordable products. These mattresses are often the choice for individuals who lead active lifestyles, including athletes who regularly find themselves with sore or damaged muscles. Many of the mattress models cost under $1000 and feature a range of sizes from twin up to California king. This makes Zoma an affordable option for shoppers who are looking for a mattress on a smaller budget.
Not only did the Zoma Start make its way onto the list of 2022's best mattresses, but the original Zoma Mattress also made an appearance. Originally known as the Zoma Sports Mattress, the model has been named as the best memory foam mattress of the year. It has a firmness score of five out of ten, which gives it a medium rating. The 12-inch thick mattress is two inches thicker than the Zoma Start, with a higher price range of $499 to $1198 too.
The Zoma Mattress is ideal for back, side and combination sleepers due to the medium-firmness created by the softness and support of the memory foam layers. This model features a similar structure to the Zoma Start, with a top layer of cooling gel memory foam that is designed to absorb and dispel heat from the sleeper.
This top layer also features an adaptive Triangulex™ technology, which features multiple triangular cutouts around the head and feat sections of the mattress. These areas have increased flexibility and are able to give both support and pressure relief to the shoulders, which is an area that is particularly sensitive to a build-up of pressure.
As with the Zoma Start, the other Zoma mattresses feature the brand's exclusive Reactiv foam. The buoyant material is similar to latex, which helps the mattress feel more responsive than standard memory foam. A further layer of Support+ foam, made from a stiff poly-foam material, helps to give the Zoma mattresses a durable base that can withstand years of use.
Zoma makes all of its mattresses and pillows in the United States and only uses foam that has been CertiPUR-US® certified. This means that the foam in every Zoma mattress is free of harsh chemicals and prevents off-gassing. The breathable foam also helps to wick away heat and prevents sleepers from overheating and sweating throughout the night.
Although Zoma is particularly popular amongst athletes, as can be seen through the use of famous athletes in the brand's campaigns, Zoma mattresses are also suitable for individuals who want to repair their bodies whilst they sleep. Cooler mattresses can help to ease muscle pain by relaxing the body and reducing swelling, in a similar way that an ice pack would.
The memory foam structure of the mattresses can also help to promote good spinal alignment and healthy sleeping positions, which in turn can help reduce pressure build-up and leave sleepers feeling refreshed and rested each morning. Unlike the Zoma Start, individuals are able to try out the Zoma Mattress for themselves during a 100-night sleep trial. Zoma also offers a ten-year warranty with their mattresses, which ensures customers are able to return the mattress should they be unhappy.